Marketing Your Practice: Terminology Dos and Don'ts

With all the nuances in terminology in our industry, it is hard to know the right way to say
things in order to market yourself appropriately. With more ways than ever to reach a growing audience, clinicians who utilize hippotherapy as a treatment tool in their practice need to be cognizant of not only their print marketing, but their digital and social marketing as well. It is often hard as professionals to find the right balance between using the appropriate words to describe our profession and the tools we use, and using words that laypeople understand and use in everyday language.
Service Marketing
As licensed professionals it is our responsibility to lead with the therapy. Equine therapy, horse therapy, or riding therapy are not appropriate ways to describe the services that you are providing. Hippotherapy and equine-assisted therapy are also not appropriate. So, what is? "Speechlanguage pathology/occupational therapy/physical therapy utilizing hippotherapy as a treatment tool." It can complicate matters further when you work for a facility that offers both adaptive riding and therapy services. Do you call the people who come to your facility "riders?" "Clients?" "Participants?" It's important to delineate the differences between these terms and to be specific about appropriate services or programs. Typical terminology in the horse industry is that riders come for lessons. Typical terminology in the therapy services industry is that clients come for therapy sessions. Why should it be different for our practices? AHA, Inc. strongly recommends not using the term equine-assisted activities and therapies, as the term could potentially lead "to misrepresentation of the scope of services provided and/or outcome expectations for consumers." (AHA, Inc. Terminology Document) Because hippotherapy is a treatment tool, it is inappropriate to market our services as "hippotherapy programs" or to say that our services are taking place at "hippotherapy centers."
As per AHA, Inc.'s Best Practice Statements, hippotherapy is a treatment tool that we incorporate as part of a larger plan of care. So, while adaptive riding lessons take place at a barn or on a farm, therapy sessions take place in a clinic setting. In the same regard, when offering both adaptive riding and therapy services at the same facility a clear distinction needs to be made between the two programs. During an adaptive riding lesson, riders are taught riding skills by riding instructors. It is not appropriate to market an adaptive riding program by saying "riding moves the rider's body in a manner similar to that of a human walking. Because of this, riders improve their posture, balance, muscle control, and sensory motor skills." As riding instructors are not formally trained in targeting these specific goals, it can be considered false advertising to make such claims.


Professional Marketing
A lot of times our members are excited about their new practice specialty. It is important to make sure that their colleagues, families, and volunteers know that they have attended continuing education on how to appropriately use hippotherapy as part of a client's plan of care. Being a member of AHA, Inc. is wonderful, as it demonstrates your commitment to your profession and to the treatment tool. It is important to list your professional memberships appropriately. Joining AHA, Inc. does not mean you are certified in hippotherapy or that you are a registered member and/or certified therapist. It is best to say that you are a member of AHA, Inc. as a professional organization.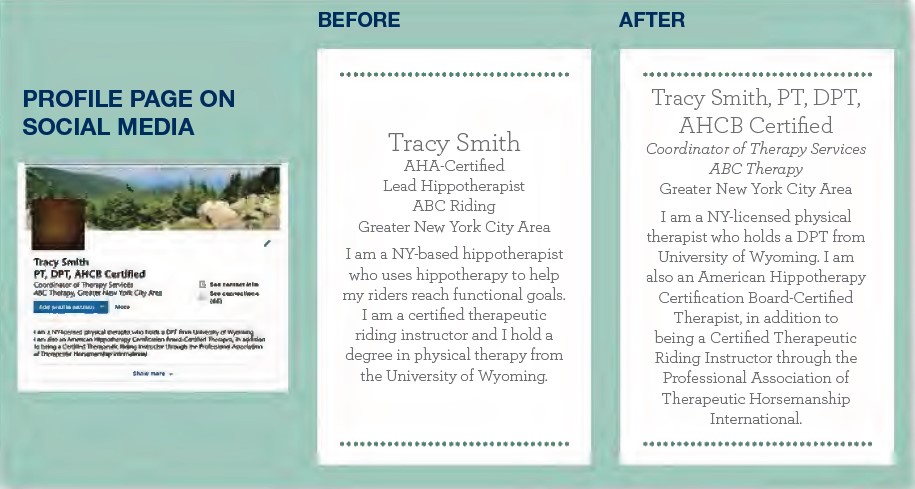 Simply attending an AHA, Inc. course does not mean that someone has attained a certification. AHA, Inc. is an educational body, not a certifying body. It is inappropriate to say that you are "AHA, Inc. Level I Certified" or an "AHA, Inc. Registered Therapist." The only acceptable forms of certification in hippotherapy come from the American Hippotherapy Certification Board. Occupational therapists, occupational therapy assistants, physical therapists, physical therapy assistants, speech-language pathologists, and speech-language pathology assistants are eligible to sit for the AHCB Certification Exam (for more on the exam, see page 16). Upon passing, the correct terminology would be "Jane Smith, PT, DPT, AHCB Certified Therapist." Occupational therapists, physical therapists, and speech-language pathologists are eligible to sit for the Hippotherapy Clinical Specialist Exam; upon passing that exam, the right terminology for the credential would be "John Smith, MS, OTR/L, HPCS."
An oft-heard refrain is, "You only have one shot at making a first impression." This is especially poignant for practitioners excited about their new practice specialty. They need to consider professional marketing as one of the first steps in their business plan.
Caution also needs to be exercised when updating professional sites such as LinkedIn or personal websites. Too often, professionals will write that they are a "Certified Hippotherapist" when this is not the case. The United States does not recognize "hippotherapist" as a credential and thus it cannot be used to describe the services that you are providing. This concept ties back into leading with the therapy, as the services you are providing tie directly into your professional licensure.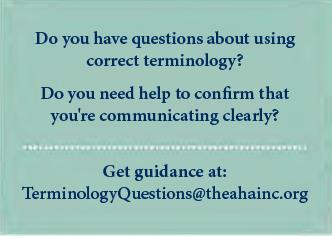 Share this post: